TIPTON COUNTY, Tenn. - More than 2.5 million youth reported using e-cigarettes in 2022. That's according to a report published by the Centers for Disease Control and Prevention.
A local superintendent is now aiming to help curb that number in his own community.
Tipton County Schools Superintendent John Combs sent out a letter asking vape store owners not to sell vape products to minors.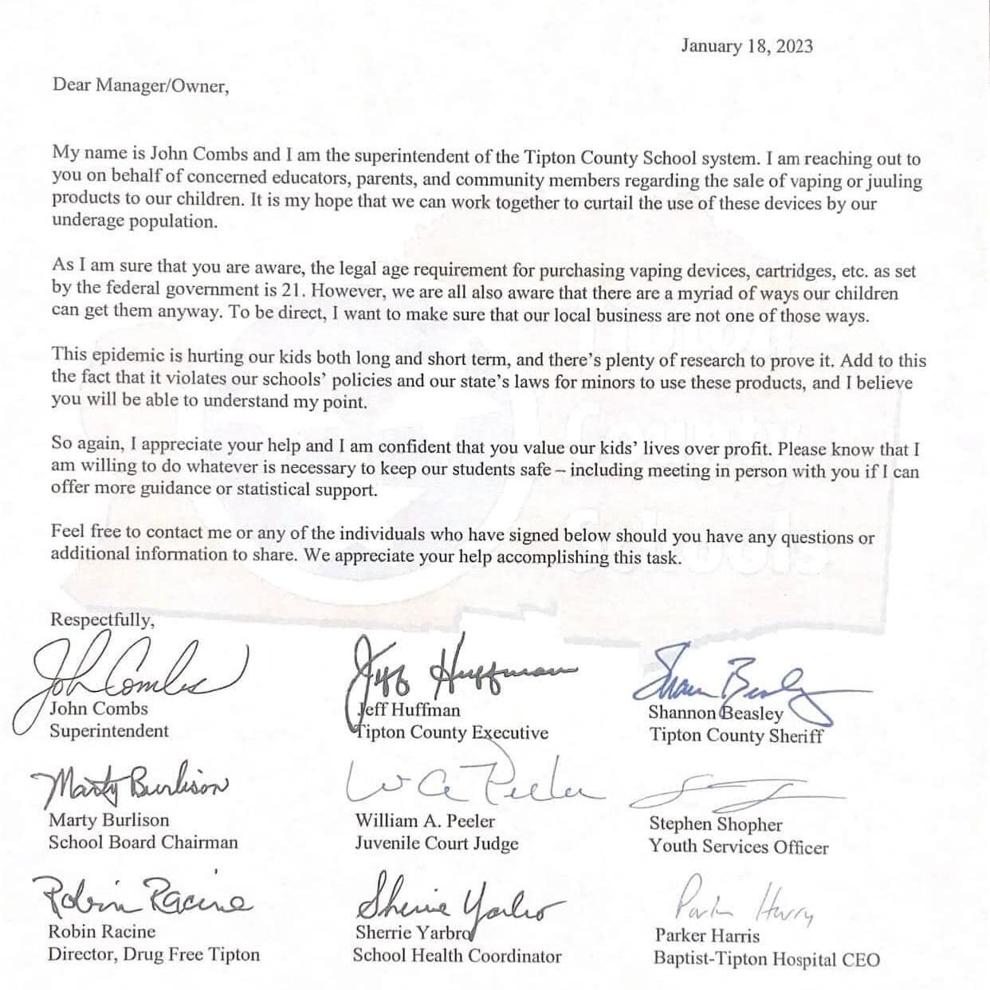 Several others, like Munford Mayor Dwayne Cole, joined the effort.
"It's a big deal. They don't need to be selling to underage children," said Cole. "The legal age, according to the state of Tennessee, is 21 years old. It's my understanding that there's a lot of material, a lot of products sold to underage children."
Combs' letter to vape shops across Tipton County said in part, "I am reaching out to you regarding the sale of vaping or Juuling products to our children. It is my hope we can work together to curtail the use of these devices by our underage population."
"There have been kids passing them around in class or in the hallways, so it's definitely out there," said parent Lance Wallace, who told us he learned from his 5th grader that students take vapes to school often.
According to a Centers for Disease Control and Prevention report, more than 2.5 million youth reported e-cigarette use last year. FOX13 heard from several parents who told us they have first-hand knowledge of this growing trend in their own community.
"There are kids I know that have been at the park and they're selling them; like, underage kids have been selling them to other kids and I just want to know where they've been getting them from," a mom of 5, who goes by the name "Katherine", told FOX13.
According to a 2019 report published by the National Institutes of Health, 31.1% of vape products were most commonly purchased by underage teens from a store or online.
We also learned 16.3% bought them from another person, 15% gave money to someone to buy the product for them, and 72.8% had someone else's device.
Hayden Palmer works at BD Tobacco and Vapor in Covington. He said the store maintains a very strict policy to ensure products don't get into the hands of those under 21.
"We definitely do our best to make sure that nobody tries to get by," Palmer said. "Whether it be, 'Oh I forgot my ID,' we get that a lot. Even if you did forget it, we can't sell it to you. You got to be the right age to buy this type of stuff."
Meantime, Mayor Cole said he plans to meet with Munford Police Chief Randal Baskin to discuss best practices for curbing underage vaping in the area.
---
Download the FOX13 Memphis app to receive alerts from breaking news in your neighborhood.
---
Trending stories: