MEMPHIS, Tenn. — The impact of the novel coronavirus is being felt all across the Mid-South where new cases are being announced every day and new steps are being taken to help limit the spread. Keep checking back for the latest COVID-19 updates throughout the day.
CLICK HERE for the most up-to-date information on the coronavirus outbreak.
For the latest on coronavirus, stream FOX13 News on FOX13 Memphis Now – it's free on your Roku, Amazon Fire or Apple TV as well as your FOX13 News App.
Below are the latest updates for Monday, April 13:
UPDATE: (8:35 p.m.) Two patients at Lakeside Behavioral Health System tested positive for COVID-19. One patient was discharged and is isolating in self-quarantine at home, according to a facility spokesperson. The other patient is under strict isolation in a negative-pressure room.
A spokesperson said each patient is screened daily and all staff is screened upon entering the building. Visitation has been suspended and patients use Zoom or additional phone time to keep in touch with their loved ones.
UPDATE: (8:25 p.m.) According to the Arkansas Department of Health, there are now 1,475 cases of COVID-19 in the state with 427 recoveries and 30 deaths.
UPDATE: (8:20 p.m.) The Mississippi Department of Corrections announced its first coronavirus case in one of its state prisons.
An inmate at the State Penitentiary at Parchman was found to have had the virus after he died.
The inmate had other health problems as well.
UPDATE: (7:55 p.m.) The Mississippi Department of Health released new testing numbers.
UPDATE: (4:15 p.m.) Gold Strike Casino in Tunica wanted to share the love with everyone dealing with the coronavirus and those stuck at home.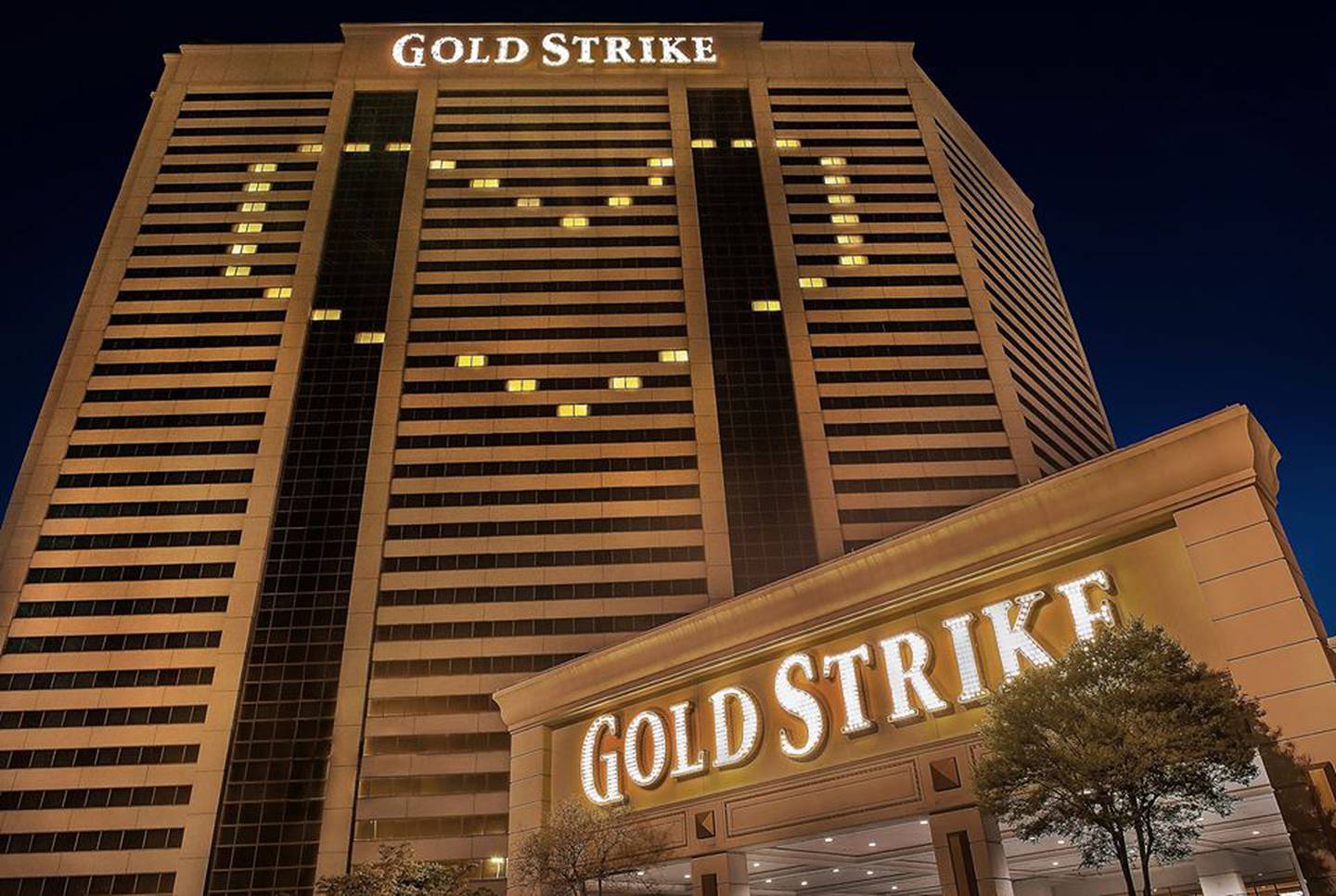 UPDATE: (4:10 p.m.) United Way has created a call center for those who need services related to the COVID-19 pandemic.
MORE: United Way is opening a Relief Call Center
UPDATE: (3:45 p.m.) The Shelby County District Attorney's Office has dismissed several cases since March 16 due to COVID-19.
If you received a letter in the mail that looks like the photo below, then your court case was dismissed.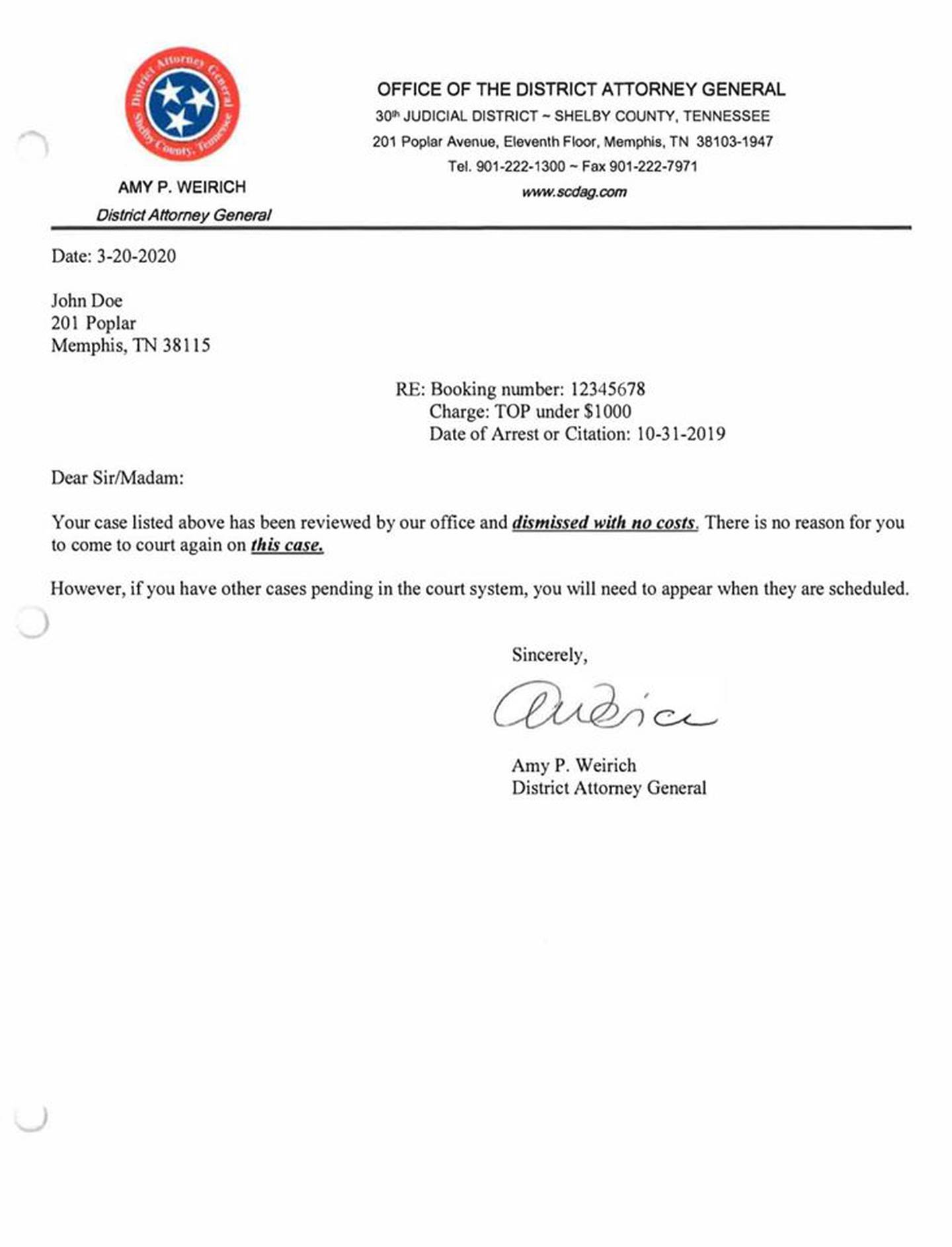 UPDATE: (3:00 p.m.) Gov. Bill Lee says Tennessee's "Stay at Home" order will remain in place through the end of April as the fight against the coronavirus continues.
Lee also said the state will start to reboot its economy in May. To make that happen, Gov. Lee is forming an economic recovery group to work with lawmakers, mayors and healthcare professionals. The announcement comes the same day that several governors across the country have announced regional efforts to work on reopening the economy, but also on a day President Donald Trump said on Twitter the ultimate decision will be up to him.
For the purpose of creating conflict and confusion, some in the Fake News Media are saying that it is the Governors decision to open up the states, not that of the President of the United States & the Federal Government. Let it be fully understood that this is incorrect....

— Donald J. Trump (@realDonaldTrump) April 13, 2020
Lee said the state has had more than 10 days of single-percentage increases in new cases of COVID-19. There are 5,610 confirmed cases with 109 deaths and 1,671 recoveries. In all, 76,000 coronavirus tests have been performed in Tennessee since the start of the outbreak.
Gov. Lee said there are 5,287 open hospital beds across the state, which he said puts Tennessee at a good point to deal with a surge in cases. The state is looking at alternative sites that could remain open long-term, which could be 12 to 18 months, to treat COVID-19 patients.
While Lee said Tennessee, like other states, cannot afford to have the economy shut down for months, he reiterated that good hygiene and social distancing need to continue. Lee issued the stay at home order April 2 forcing non-essential businesses to close and asking Tennesseans to limit non-essential trips away from home.
Gov. Lee also addressed the severe storms that hit the state on Easter. The governor said two people in Tennessee died in the storms,
UPDATE: (2:30 p.m.) Governor Tate Reeves of Mississippi held a press conference Monday on how the state will be combatting the coronavirus and the Easter Sunday storms.
The state lost at least 11 people from the Sunday storms.
There were 12 or more tornadoes in Mississippi on Easter and 30 counties were affected.
The state is working nonstop to open roads back up from debris cleanup and cities have begun to make their first assessments of the aftermath of the storm.
The governor asks all Mississippians to stay off the roads for officials to help and assess damages.
There have been almost 90,000 Mississippi families that have been left without an income during the pandemic.
The governor said health experts indicated that Mississippi is close the surge and wants to open the state back up as soon as they can.
Dr. Dobbs said the peak will be for those who have tested positive and those who are hospitalized.
Dobbs said one of the key issues the state will face is the distribution of needs when the peak occurs.
He also added that the state is working on ways to gradually reopen from the "Stay at Home" order. They do not plan to reopen everything all at once.
The state is looking at sites near the community college in Tupelo for a potential COVID-19 surge location.
Officials said they passed out additional PPE on Friday to shelters to unsure the shelters could be open for life safety but still take the extra precautions due to the coronavirus pandemic.
UPDATE: (2:01 p.m.) The COVID-19 case count for Tennessee is now 5,610 as of April 13, 2020, including 109 deaths, 579 hospitalizations and 1,671 recovered.
UPDATE: (1:31 p.m.) The Governor of Arkansas announced a Medical Advisory board. The goal is to be able to address more issues before they arrive in the state. The board will work to stop new spikes and contain the spread.
In regards to the number of positive tests, there were 130 new cases from today to yesterday. This was the single largest increase in a 24 hour period for Arkansas. The death count is now at 30.
Little Rock Community Correction has had 27 employees and five inmates test positive.
46 inmates, eight staff and one contractor have tested positive at the Federal Correctional Institute in Forrest City.
A smaller rehab facility in central Arkansas has 24 cases. There were 15 residents and nine staff members who tested positive.
UPDATE: (12:01 p.m.) The City of Memphis said they are opening multiple programs for small businesses that are being affected by the COVID-19 outbreak.
The programs have specific numbers on who qualifies.
Click here for more information
On the Shelby County nursing homes that are having outbreaks:
Carriage Court: They have had three deaths in total.
Village at Germantown: Seven cases. Five of them are residents and two are staff
Parkway Health and Rehabilitation: Seven cases. Five of them are residents and two are staff
The Memphis Fire Department Chief spoke on the 6,500 first responders and thanked them for their service to keep the public safe.
The chief also asked people to continue to stay home. She also said that the fire department is working to bring more testing to lower served areas.
Memphis Police Department has experienced 21 cases of employees who tested positive.
Shelby County Sheriff's Office has had 15 cases of employees who tested positive.
Memphis Fire Department has 19 employees who tested positive.
Mayor Jim Strickland also made an announcement that the old Commercial Appeal building will be used as a temporary hospital during the surge of potential cases.
This is an addition to the hospital being created in a North Memphis shopping center.
RELATED: War against coronavirus will soon have a new battleground in Memphis
The mayor said the old Commercial Appeal building will be the primary temporary hospital because of its proximity.
UPDATE: (10:06 a.m.) According to the Mississippi Department of Health, "this morning MSDH is reporting 161 new cases of COVID-19 in Mississippi, with two new deaths. The total of coronavirus cases since March 11 is now 2,942, with 98 deaths."
UPDATE: (10:02 a.m.) Shelby County Health Department said there are 1,269 cases of coronavirus in the county and 26 deaths in total were reported.
The health department said 13,362 people have been tested.
UPDATE: (9 a.m.) Arkansas health officials are reporting 1,398 cases this morning.
There have been 29 deaths in Arkansas.
UPDATE: (8:07 a.m.) Administrators of The Village at Germantown retirement community said five residents of its Skilled Nursing unit have tested positive for COVID-19.
Administrators have also communicated with residents and families of residents about the latest findings and about their response to prevent the virus from spreading among residents, according to a press release.
All of the residents who tested positive reside in the community's Skilled Nursing unit and several have been in and out of hospitals or other healthcare facilities recently.
Four of the residents are hospitalized, several for pre-existing conditions.
The fifth is in isolation under observation and is asymptomatic.
Two employees have also tested positive. They are off the job and in quarantine at their homes.
UPDATE: (6:10 a.m.) Beginning today, Church Health will be offering drive-thru coronavirus testing, by appointment only, at Crosstown Concourse.
The testing will be located in the Claybrook pass on the west side of the building next to nexAir's office.
The Claybrook pass is protected from the weather, including wind and rain.
Church Health clinicians can take the samples immediately into their clinic.
No walk-ups will be allowed.
Testing will take place Monday through Wednesday from 8 a.m. to noon.
Testing hours and dates may be expanded.
MPD and G4S security will be present at all times during testing.
UPDATE: (5:07 a.m.) The Mid-South Food Bank is distributing food today through its Mobile Pantry at the following locations:
Memphis, Riverside Baptist, 3560 3rd St. 38109, 10 a.m.
Memphis, Kroc Center, 800 E. Pkwy South, 38104 10 a.m.
Marshall County, MS- Sacred Heart, 295 E. Francisco, Holly Springs 10 a.m.
Marshall County, MS- Chulahoma MBC 5509 Hwy 4, Holly Springs 38635, 10 a.m.
UPDATE: (4:30 a.m.) Below are the latest number of cases by state for our area:
Tennessee 5,308 - 101 deaths.
19 cases in Dyer County. 1,216 cases in Shelby County. 49 cases in Tipton County. 32 cases in Fayette County.
26 deaths in Shelby County.
Mississippi 2,781 - 96 deaths.
38 cases in Coahoma County. 171 cases in DeSoto County. 29 cases in Lafayette County. 33 cases in Marshall County. 22 cases in Panola County. 24 cases in Tate County. 43 cases in Tippah County. 21 cases in Tunica County.
Arkansas 1,280 - 27 deaths.
93 cases in Crittenden County.
© 2020 Cox Media Group