MEMPHIS, Tenn. — The impact of the novel coronavirus is being felt all across the Mid-South where new cases are being announced every day and new steps are being taken to help limit the spread. Keep checking back for the latest COVID-19 updates throughout the day.
CLICK HERE for the most up-to-date information on the coronavirus outbreak.
For the latest on coronavirus, stream FOX13 News on FOX13 Memphis Now – it's free on your Roku, Amazon Fire or Apple TV as well as your FOX13 News App.
Below are the latest updates for Monday, March 23
UPDATE:(9:05 p.m.) Officials at St. Jude confirmed a second employee has tested positive for the coronavirus. St. Jude said in a statement:
"The health and safety of our patients, families and employees are our highest priority. Over the weekend, a second St. Jude Children's Research Hospital employee who works in patient care tested positive for COVID-19. It's important to know that the employee followed our established procedures and stayed home after the first sign of symptoms, and is on self-quarantine now. The employee developed symptoms while away from work and was last at work 12 days ago. Due to privacy and confidentiality laws, we cannot share personal information about the employee. We are working in partnership with the Shelby County Health Department to make sure appropriate follow-up measures are taken. All close contacts of the employee at St. Jude are being identified and notified. We continue to be focused on ensuring the health and safety of our patients, families and employees."
UPDATE: (8:30 p.m.) The Arkansas Health Department announced there are 197 cases of the coronavirus.
UPDATE: (6:20 p.m.) The Shelby County Sheriff's Office confirmed an employee tested positive for covid-19. The employee workes with inmates at the Shelby County jail. The employee is self quarantined. No inmate has tested positive for the coronavirus. The Shelby County Sheriff's Office updated the screening process earlier in March to limit who is allowed in the jail. They are also working with the Attorney General's Office and the Public Defender's Office to reduce the number of inmates in jail.
UPDATE: (4:55 p.m.) Mississippi Department of Transportation's first response crews began setting up covid-19 testing at Mississippi State Fairgrounds in Jackson. It is unknown when testing will begin.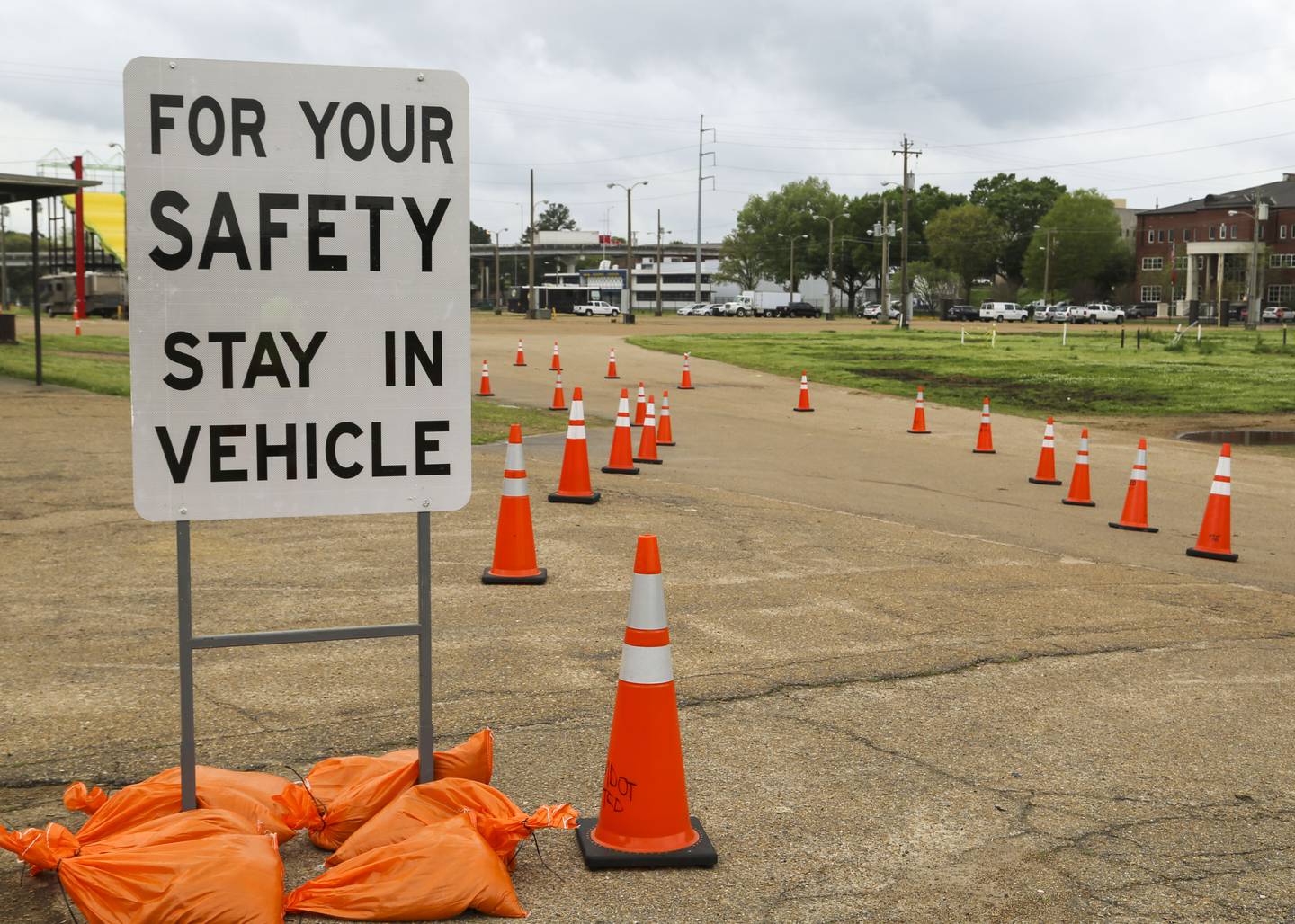 UPDATE: (3:20 p.m.) Governor Bill Lee announced the COVID-19 United Unified Command for the state.
They will change the way the state attacks COVID-19.
The need for medical supplies is still big.
There is national movement to get medical supplies.
Executive Order 18 was announced to prohibit hospitals and surgical places to elective surgeries, as well as dental facilities.
Ventilators are on the way.
"This is a time for innovation and there is no one better than Tennesseans," Lee said.
There has been isolated cases between hospital workers and within patients.
The state understands that there will be hard economic times for Tennesseans across the state.
There was a positive diagnosis within the governor's staff.
The governor said does not believe it is the right time for a state wide Safer At Home order, but it's not off the table for discussion.
The governor reiterated that we can't stop the virus, but mitigate it.
"We are working for the health of Tennessee," Lee said.
UPDATE: (3:15 p.m.) The Tennessee Department of Health announced 615 cases of COVID-19 and Shelby County is up to 93 cases.
UPDATE: (3 p.m.) Arkansas officials are starting to see the spread within homes and businesses.
UPDATE: (2:36 p.m) The Arkansas Department of Health confirmed the number of cases has increased to 174 across the state.
The Governor also said they have pushed back the state tax filing date for individuals to July 15. The date for businesses filing has not changed.
UPDATE: (2:35 p.m.) The City of Germantown has issued a Safer at Home Executive Order.
"To further combat the spread of Coronavirus (COVID-19), City of Germantown Mayor Mike Palazzolo has issued a Safer at Home Executive Order that will go into effect beginning Tuesday, March 24, at 6 p.m. and will remain in effect until rescinded by the mayor. The Safer at Home Order directs all Germantown residents to stay inside their homes and immediately limit all movement outside of their homes beyond what is absolutely necessary to take care of essential needs. On those occasions when residents are out of their homes for necessary tasks, they are urged to stay at least six feet away from others.
The order continues a steady progression of social-distancing measures mandated by the City of Germantown over the past week. Mayor Palazzolo initially declared a local state of emergency on Friday, March 20, which includes powers such as to impose a curfew and shelter-in-place. The Safer at Home Order will help to ensure the public health of those in the community, disrupt the spread of the virus and reduce the strain on regional healthcare resources as much as possible."
UPDATE: (2:20 p.m.) The Shelby County Clerk's office said one of their employees has been exposed to the coronavirus.
"Due to employee exposure to COVID-19, today the Shelby County Clerk's office has made a decision to temporarily shut down the operations at its 7 locations until further notification."
Click here for a list of the locations and the services that are affected.
UPDATE (2:10 p.m.) Gov. Bill Lee has established the COVID-19 Unified Command to streamline coordination across the Tennessee Emergency Management Agency (TEMA), Tennessee Department of Health and Tennessee Department of Military.
"I have appointed the Unified Command to effectively change the way we attack COVID-19 in Tennessee as we work to simultaneously address health, economic and supply crises," Gov. Lee said.
UPDATE (2:04 p.m.) Shelby County Mayor Lee Harris is joining the City of Memphis in closing all nonessential businesses. Mayor Harris made the announcement at a news conference with the Shelby County Health Department.
He emphasized that the municipalities are unified and will be doing the same thing. They expect the orders to be released by tomorrow.
FOX13 has compiled a list of the businesses considered essential and non-essential for you.
UPDATE (1:25 p.m.) A Veteran member of the International Olympic Committee says the Olympics will be postponed.
Dick Pound, a longtime, influential member of the International Olympic Committee told USA Today that the 2020 Tokyo Olympic Games are going to be postponed. Dick Pound said the Games were likely to be shifted to 2021, with the details to be worked out in the next four weeks.
"On the basis of the information the IOC has, postponement has been decided," Pound told the newspaper in a telephone interview. "The parameters going forward have not been determined, but the Games are not going to start on July 24, that much I know."
UPDATE (1:20 p.m.) Memphis mayor Jim Strickland issued a "Safer at Home" order that forces all non-essential businesses in the city to close.
FOX13 has compiled a list of the businesses considered essential and non-essential for you.
UPDATE (12:45 p.m.): McDonald's restaurants are offering free breakfast for children 13 and under.
The offer is available at all locations through March 27 from 7-10 a.m.
A parent/adult must purchase one item to receive the free breakfast.
UPDATE (12 p.m.): Mayor Jim Strickland held a press conference today and announced a Safer At Home executive order that starts tomorrow at 6 p.m. and goes for two weeks.
Barlett, Collierville and Germantown are expected to follow this as well.
Area doctors requested this order.
The mayor said essential businesses that can stay open that include fire and police departments, hospitals and grocery stores.
Strickland emphasized the public's need to take this seriously.
Strickland said this will only get worse before it gets better.
MORE ABOUT THIS ORDER CAN BE FOUND HERE
UPDATE: (11: 07 a.m.) Changes are being made to people who have jury duty coming up in Shelby County.
Due to the pandemic of COVID-19, individuals who are currently scheduled for jury duty beginning March 30th and April 6th has been rescheduled. Call 222-1650 for more information.
If you have received a jury summons in the mail for April 2nd, you can log on to the website listed on the summons to complete the qualification process.
UPDATE (11:00 a.m.): Shelby County currently has 84 confirmed COVID-19 cases, according to the Shelby County Health Department. The increase in case numbers is not unexpected because testing has increased, especially by commercial laboratories.
"There are now indications that person-to-person spread in the workplace and the community is taking place," a Health Department official said. "The Health Department recommends strict adherence to social-distancing recommendations."
UPDATE (10:50 a.m.): Clarksdale is implementing a citywide curfew during today's meeting.
"The curfew will be imposed for all residents between the hours of 10:00 p.m. and 5:00 a.m. starting Tuesday, March 24, 2020 and ending Monday, April 13, 2020. There should be no loitering on public streets, in businesses, buildings, or public places unless you are an essential worker or traveling for medical reasons. Mayor Espy noted, "Because we still have issues with the social congregation and many who are potentially exposing themselves to COVID-19, we are taking additional actions to save lives and limit exposure of this highly infectious virus."
Essential workers include those working in emergency and medical services, grocery stores, pharmacies, essential city employees, and those who work for express delivery services. Other businesses will need to adjust their hours and continue to limit gathers. Residents should remain in their homes and property as much as possible. Everyone should wash their hands often with soap and water for at least 20 seconds and avoid close contact with people who are sick. "These next steps are stricter but necessary to slow the spread of the virus and keep our community as safe as possible," said Espy. "
UPDATE (10:30 a.m.): The Naval Support Activity Mid-South has announced an additional positive case of COVID-19 at the Millington Naval base.
The case was confirmed over the weekend in personnel who works on-board the installation, according to a post on the base's Facebook page.
The infected areas were cleaned, according to the post.
UPDATE (10:15 a.m.): The Arkansas Department of Health announced Monday that confirmed cases in the state are now at 168.
Crittenden and Poinsett counties are still the only ones in our area with confirmed cases.
UPDATE (9:30 a.m.): Shelby County Mayor Lee Harris announced this morning that American Job Centers in West Tennessee will temporarily close beginning today due to the coronavirus outbreak.
The job centers in Shelby, Fayette, Lauderdale and Tipton Counties will be closed to the public until further notice.
The temporary closure has been ordered by the State of Tennessee as a precautionary measure to help slow the spread of the coronavirus.
RELATED: Shelby County Mayor orders temporary closure of American Job Centers
UPDATE (9:02 a.m.): The Mississippi State Department of Health is reporting 42 new cases of COVID-19 in Mississippi, including 3 counties with their first cases. The state total of coronavirus cases is now 249, with one death.
DeSoto County has 23 cases, the second-highest case count by county in the state.
Tippah County has 9 new cases.
Tate County has its first case to date.
More details and important preventive steps at http://HealthyMS.com/covid-19.
UPDATE: (9:00 a.m.) This morning T-Mobile announced the early launch of T-Mobile Connect and new offers from Metro by T-Mobile in order to give customers discounted service during the coronavirus outbreak.
The cell phone service provider will launch $15 rate plans Wednesday.
UPDATE: (8:10 a.m.) U.S. Army recruitment offices are still open for business in Memphis via phone and Internet, according to a press release.
There are over 150 career paths, up to $40,000 signing bonuses, money for education, free healthcare and more benefits available through service in the U.S. Army or U.S. Army Reserve.
UPDATE (6:20 a.m.): The global death toll attributed to the novel coronavirus approached 15,000 early this morning, according to a Johns Hopkins University tally.
In the three months since the virus was first identified in Wuhan, China, it has infected at least 343,421 people worldwide and claimed at least 14,790 lives.
The United States has reported 35,224 confirmed cases, resulting in 414 deaths.
UPDATE (6:08 a.m.): Health officials in Nigeria are warning residents against the use of chloroquine to treat the novel coronavirus following three weekend hospitalizations linked to the drug, CNN reported.
The warning comes after U.S. President Donald Trump claimed in a White House press briefing late last week that the Food and Drug Administration had approved the "very powerful" chloroquine to treat the virus.
UPDATE (4:50 a.m.): Below are the latest number of confirmed cases by state for our area:
Tennessee 505 - 66 in Shelby County, 2 in Dyer County
Arkansas 165
Mississippi 207 - 18 in Desoto County, 11 in Forrest County, 20 in Hinds County, 10 in Pearl River County
---
Download the FOX13 Memphis app to receive alerts from breaking news in your neighborhood.
---
Trending stories:
© 2020 Cox Media Group