MEMPHIS, Tenn. — SEVERE WEATHER CENTER 13 IS IN STORM MODE.
MULTIPLE WATCHES AND WARNINGS HAVE BEEN ISSUED.
CLICK HERE TO WATCH LIVE COVERAGE AS WE TRACK THE LATEST WATCHES AND WARNINGS.
---------------------------------------------------------------
LATEST AS OF 7:00 p.m.
A Tornado Watch has been issued for all of the Tennessee counties in our area and many in Arkansas
Tonight's storms have now been upgraded to a 3/5 risk for the FOX13 viewing area.
THESE STORMS WILL BE ARRIVING LATE TONIGHT INTO EARLY TOMORROW MORNING.
Timing has stayed consistent, bringing it into Memphis near midnight to 2 a. m.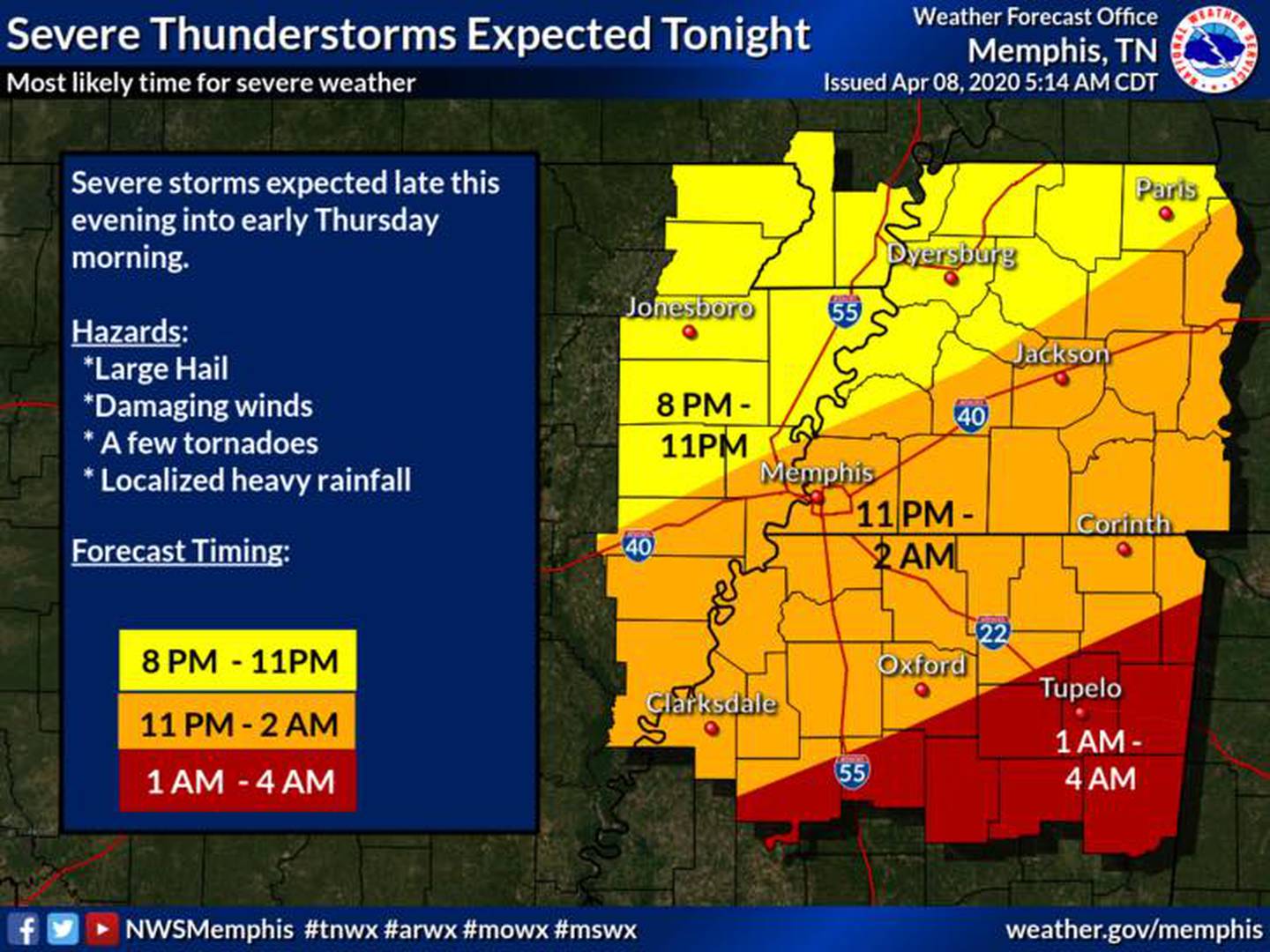 We are at a 3/5 Risk Zone for much of the FOX13 viewing area
A 3/5 Risk Zone means we expect portions of our area to see strong storms and winds, the potential for large hail, and possible isolated tornadoes
This system will move through later tonight into early tomorrow morning as a cold front passes
Thursday and Good Friday will be cool and beautiful with temps near 60/65
Temperatures warm a bit going into the weekend
We're monitoring another chance for strong storms to return on Easter Sunday
Cooler temps next week
Something to think about:
Have a bunch of recently purchased supplies in the fridge?
It's possible some of us could lose power tonight. (Strong winds always bring that threat).
Think through and discuss with the family the importance of keeping the fridge CLOSED if you lose power.
It will stay colder longer.
PLEASE HAVE A WAY TO RECEIVE WEATHER WARNINGS (tonight & always).
FOX13′s Chief Meteorologist Joey Sulipeck will have updated timing on storm arrival and it's primary threats tonight on FOX13NEWS at 5/6/9/10 p.m.
LOOKING AHEAD: Temperatures will get cooler, into the 60s. Low rain chance through Saturday.
Watch the video above for your Wednesday weathercast.
---
Download the FOX13 Memphis app to receive alerts from breaking news in your neighborhood.
---
Trending stories:
© 2020 Cox Media Group