MEMPHIS, Tenn. — The impact of the novel coronavirus is being felt all across the Mid-South where new cases are being announced every day and new steps are being taken to help limit the spread. Keep checking back for the latest COVID-19 updates throughout the day.
CLICK HERE for the most up-to-date information on the coronavirus outbreak.
For the latest on coronavirus, stream FOX13 News on FOX13 Memphis Now – it's free on your Roku, Amazon Fire or Apple TV as well as your FOX13 News App.
Below are the latest updates for Friday, April 10
UPDATE: (10:05p.m.) The IRS released its online tool to register for stimulus payments.
This is for people who don't normally/haven't filed a tax return to enter their payment information:
https://www.irs.gov/coronavirus/non-filers-enter-payment-info-here
UPDATE( 8:01p.m.) Mississippi Valley State University (MVSU) announced that they will provide partial refunds for eligible students.
UPDATE (6:21 p.m.) Mississippi's Governor issued an executive order to postpone state and county conventions and precinct caucuses until it is safe.
UPDATE: (5:33 p.m.) Arkansas health officials have confirmed 1,202 cases of COVID-19 in the state.
24 people have died due to COVID-19 and 329 people have recovered in Arkansas.
UPDATE: (3:17 p.m.) The University of Mississippi announced refunds will be issued to eligible students for the Spring 2020 semester.
UPDATE: (2:00 p.m.) The COVID-19 case count for Tennessee is now 4,862 as of April 10, 2020, including 98 deaths, 536 hospitalizations and 1,145 recovered.
The COVID-19 case count for Tennessee is now 4,862 as of April 10, 2020, including 98 deaths, 536 hospitalizations and 1,145 recovered. For more county-level data, go to: https://t.co/Pwof6IANuV. Questions or need assistance? Call the Public Information Line at (833) 556-2476. pic.twitter.com/D40ncfQ4nP

— TN Dept. of Health (@TNDeptofHealth) April 10, 2020
UPDATE: (1:34 p.m.) Arkansas held its daily update.
There are 1,171 cases in Arkansas, and 23 deaths, two more than yesterday.
Governor Asa Hutchinson continued to show that Arkansas is below the original projections of how many cases the state would have.
Gov. Asa Hutchinson said he talked to Dr. Fauci who said he gave the state the stamp of approval of what they were doing to help stop the spread.
"Every death is a tragedy. They are not a statistic. They are real people," Gov. Hutchinson said.
The first state employee has died of the coronavirus.
The overall positivity for Thursday was 3.6 percent of those tested.
UPDATE: (12:08 p.m.) The Shelby County COVID-19 Joint Task Force gave its daily update concerning the coronavirus in the community.
Alisa Haushalter, director of the Shelby County Health Department, said 11,945 people have been tested in Shelby County.
Shelby County has had 1,049 positive cases.
Haushalter said 91 percent of tests have been negative.
Haushalter said there was a backlog of tests at a lab that is now caught up.
Earlier today, there were 25 reported deaths in Shelby County.
Haushalter said that number is actually 26.
Shelby County has a death rate of just over 2 percent.
Haushalter said African-Americans make up 70 percent of cases in Shelby County.
Haushalter said nine people at the Carriage Court senior living community tested positive for COVID-19.
That number includes seven residents and two employees.
Two people have died at the senior living facility.
The facility is quarantined.
Haushalter said Shelby County health officials are currently working with Parkway Health and Rehabilitation Center, where two positive cases have been identified.
Haushalter said 16 detainees at Juvenile Court were exposed to COVID-19, but have been released from quarantine.
Those people have shown no symptoms of the virus.
Fifteen of those people have been tested. The last person will be tested as well.
Doug McGowen, Chief Operating Officer for the City of Memphis, said the City is asking for compliance with the Safer-at-Home orders.
McGowen said people must continue social distancing.
Testing for COVID-19 is expanding, and the City will announce more opportunities for testing next week.
McGowen said anyone who gets tested must quarantine or isolate themselves until they have the results.
The City is also expanding its tracking of people who may have been exposed to the virus.
There are currently several hundred people in quarantine.
The City is preparing for a surge in cases.
McGowen said there will be an uptick in hospitalizations.
Hospitals are working to have staffing and equipment ready.
Anyone who needs resources during the coronavirus outbreak can call 2-1-1 for help.
The service is available Monday through Friday from 9 a.m. - 9 p.m.; Friday and Saturday from 9 a.m. to 6 p.m. and Sunday from 1-5 p.m.
For people who are disabled and lack transportation, MATAPlus is available by calling 901-322-4080.
McGowen said the city is working to get more resources available for people who have transportation problems.
If you would like to help with the local coronavirus response, you can donate to the Mid-South COVID-19 Regional Response Fund through the Community Foundation of Greater Memphis.
McGowen said people can also sign up to be apart of the workforce to address COVID-19 through Volunteer Memphis.
UPDATE: (10:24 a.m.) Memphis Health Center, Inc. is hosting drive-thru COVID-19 testing today from 1-3 p.m.
The testing is by appointment only, according to a press release.
The drive-thru testing will take place in the parking lot at MHC, located at 360 EH Crump Blvd, Memphis, TN 38126.
There is no referral needed to get a test; however, an appointment must be made.
Individuals seeking a test must call 901.261.2042 and answer a series of screening questions to determine if they are eligible.
Testing will also be done Monday through Wednesday from 5:30-7 p.m.
UPDATE: (10:16 a.m.) Mississippi health officials are reporting 209 new cases of COVID-19 in the state.
Six more people have died.
Total number of cases in Mississippi is now 2,469.
There have been 82 total deaths.
UPDATE: (10:02 a.m.) Shelby County has 1,049 cases of COVID-19, according to officials.
There have been 25 deaths in Shelby County.
UPDATE: (9:48 a.m.) An inmate at the West Tennessee Detention Facility in Mason, Tennessee, has tested positive for COVID-19, according to an official.
The inmate is currently isolated from others and is receiving appropriate medical care from facility health services staff, the official said.
UPDATE: (9:33 a.m.) Arkansas health officials have confirmed 1,164 cases of COVID-19 in the state.
21 people have died due to COVID-19 in Arkansas.
UPDATE: (9:05 a.m.) The Memphis Police Department received new personal protective equipment for officers from local businessmen Jay Thakkar, owner of Apex Equipment Supply and Apex Freight Brokers, and his brother Pravi Thakkar, a financial professional.
The Thakkar brothers donated 2,500 pieces of KN95 respirator masks for immediate use by MPD officers this week.
In the early spring, Apex Equipment Supply began selling personal protective equipment ("PPE"), including both KN95 masks for medical use, in addition to other masks and protective gear to other local companies.
In addition to providing frontline workers with PPE, Apex Equipment is focused on getting PPE in the hands of local companies that are operating essential businesses in Memphis.
Jay Thakkar said he wants companies to know help is available for PPE needs through an available supply of inventory in his company's Memphis warehouse.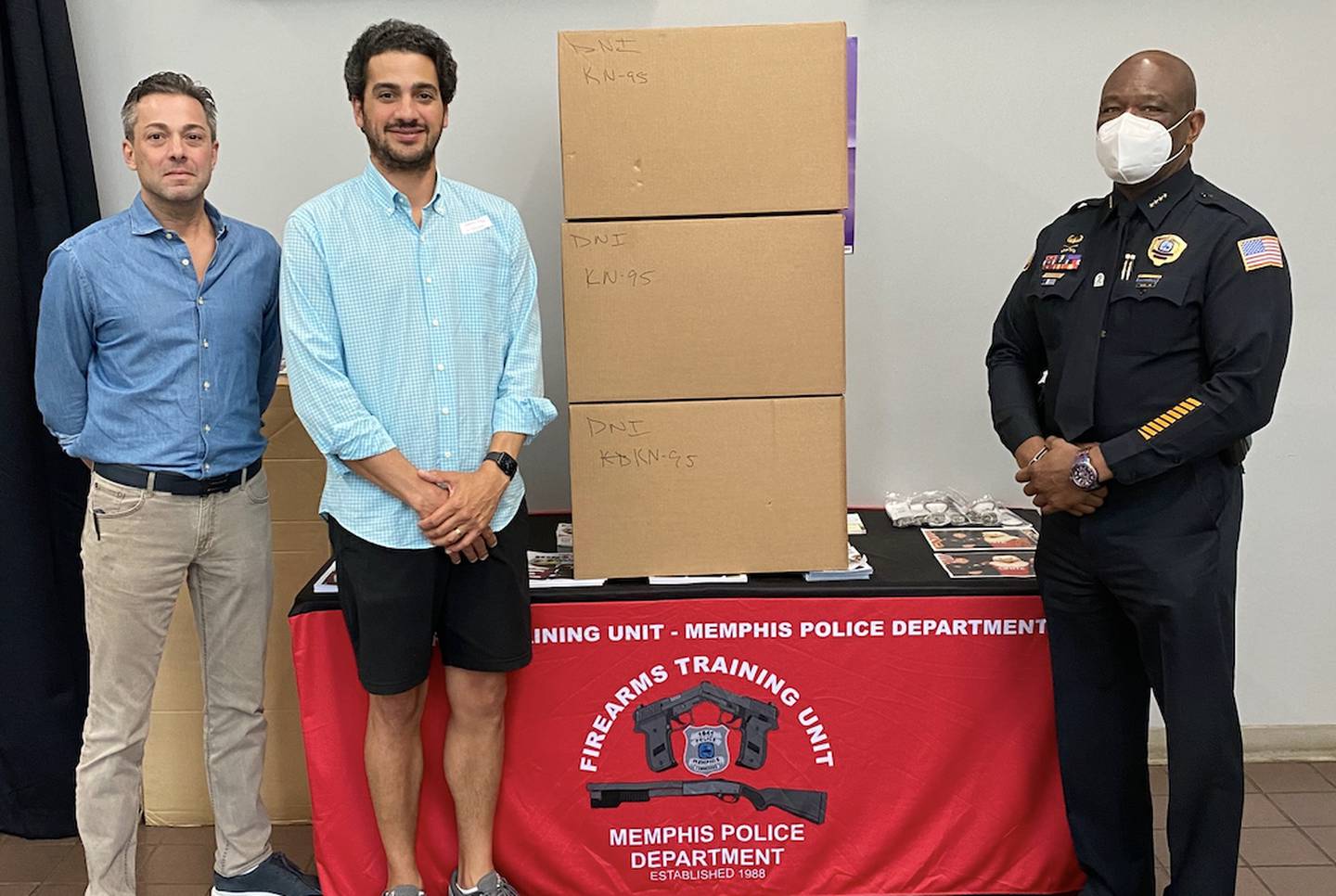 UPDATE: (9:01 a.m.) The University of Mississippi has canceled all in-person on-campus summer camps, conferences and events through August 1.
Ole Miss made the announcement this morning through a press release.
This includes all academic and athletics programs on the Oxford, Tupelo, Southaven, Booneville and Grenada campuses.
Online or remote experiences will be offered where possible, according to the press release.
Individuals who registered previously for canceled programs will receive direct communications from those programs.
UPDATE: (8:47 a.m.) Local mayors have agreed to renew orders limiting nonessential activity for an additional seven days, according to a press release.
The orders are renewed effective today.
This week, the mayors of Arlington, Bartlett, Collierville, Memphis, Millington, Lakeland, Germantown, and Shelby County met by phone to discuss Executive Orders that advise Shelby County residents to forgo nonessential activity.
Additionally, Shelby County Government, on behalf of the Joint COVID Task Force, has been working with grocery stores on additional ways to protect seniors from the risks associated with COVID-19. CDC guidelines advise that seniors are at a higher risk for severe illness.
As a result of those discussions, the Executive Order from Mayor Harris will be revised to include special shopping hours for vulnerable populations.
All essential grocery retail establishments are required to provide at least one hour of controlled access to patrons age 55 and over and to those who have serious underlying medical conditions.
Limited access is meant to protect vulnerable populations from additional or unnecessary risk of contracting COVID-19.
UPDATE: (8:33 a.m.) St. Louis Catholic Church of Memphis will be offering drive-thru confessions today beginning at noon.
The church is also offering Station of the Cross through its Facebook page today at 3 p.m.
The church is located at 203 S White Station Rd, Memphis, TN 38117.
UPDATE: (8:10 a.m.) Restoration Roofing in Collierville is giving out free hand sanitizer today, according to a company Facebook post.
The hand sanitizer will be distributed beginning at 10 a.m. in front of the Malco theatre, located at 380 Market Blvd, Collierville, TN 38017.
Limit one bottle per vehicle.
The company has a little over 1,000 bottles to give away.
UPDATE: (7 a.m.) Thirty-six Tennessee Department of Health COVID-19 assessment sites across the state will be open today and tomorrow for coronavirus testing, according to a press release.
Nurses at each site will conduct nasal swab collection for testing.
Test results may be available within 72 hours of arrival at the lab, depending on the volume of tests the testing lab receives, according to the press release.
Tennessee rural county health department clinics will be closed for other services today in observance of Good Friday.
The following locations will be open from 9 a.m. noon today and tomorrow to conduct COVID-19 testing:
Anderson County Health Department 710 North Main Street, Suite A Clinton 865-425-8800
Bedford County Health Department 140 Dover Street Shelbyville 931-684-3426
Blount County Health Department 301 McGhee Street Maryville 865-983-4582
Cheatham County Health Department 162 John Mayfield Drive Ashland City 615-792-4318
Clay County Health Department 115 Guffey Street Celina 931-243-2651
Coffee County Health Department 615 Wilson Avenue Tullahoma 931-455-9369
Cumberland County Health Department 1503 South Main Street Crossville 931-484-6196
DeKalb County Health Department 254 Tiger Drive Smithville 615-597-7599
Dyer County Health Department 1755 Parr Avenue Dyersburg 731-258-7311
Fayette County Health Department 90 Yum Yum Road Somerville 901-465-5243
Franklin County Health Department 266 Joyce Lane Winchester 931-967-3826
Gibson County Health Department 1250 Manufacturer's Row Trenton 731-855-7601
Greene County Health Department 810 West Church Street Greeneville 423-798-1749
Hamblen County Health Department 331 West Main Street Morristown 423-586-6431
Hardin County Health Department 1920 Pickwick Street Savannah 731-925-2557
Henry County Health Department 803 Joy Street Paris 731-642-4025
Jackson County High School 190 Blue Devil Lane Gainesboro 931-268-0218
Lawrence County Health Department 2379 Buffalo Road Lawrenceburg 931-762-9406
Lincoln County Health Department 1000 Washington Street, West, Suite A Fayetteville 931-433-3231
Macon County – Lafayette Missionary Baptist Church 302 College Street Lafayette 615-666-2142
Maury County Health Department 1909 Hampshire Pike Columbia 931-388-5757
McMinn County Health Department 393 County Road 554 Athens 423-745-7431
Montgomery County Health Department 330 Pageant Lane Clarksville 931-648-5747
Overton County Health Department 5880 Bradford-Hicks Drive Livingston 931-823-6260
Putnam County Health Department 701 County Services Road Cookeville 931-528-2531
Robertson County Fairgrounds 4635 US-41 Springfield 615-384-0208
Rhea County Health Department 344 Eagle Lane Evensville 423-775-7819
Roane County Health Department 1362 North Gateway Avenue Rockwood 865-354-1220
Sequatchie County Health Department 16939 Rankin Avenue North Dunlap 423-949-3619
Sevier County Health Department 719 Middle Creek Road Sevierville 865-453-1032
Smith County Health Department 251 Joy Alford Way Carthage 615-735-0242
Sumner County Health Department 1005 Union School Road Gallatin 615-206-1100
Tipton County Health Department 4700 Mueller Brass Road Covington 901-476-0235
Warren County Health Department 1401 Sparta Street McMinnville 931-473-8468
Washington County Health Department 219 Princeton Road Johnson City 423-975-2200
White County Fairgrounds, Ag Building 565 Hale Street Sparta 931-836-2201
UPDATE: (6:39 a.m.) The Community Foundation of Greater Memphis has created the Mid-South COVID-19 Regional Response Fund to support those in our community during this crisis.
Money from the fund is distributed to area nonprofits to aid in immediate relief and recovery efforts.
The fund provides money to people and organizations suffering the economic consequences of the pandemic in West Tennessee, eastern Arkansas, and northern Mississippi.
To date, the fund has deployed $977,500 to 48 organizations, including, but not limited to: ALLMemphis, the American Red Cross Mid-South Chapter, Bethany Christian Services, Fayette Cares, Hospitality Hub, Memphis Crisis Center, Sweet Cheeks Diaper Ministry, OUTMemphis and the YWCA Greater Memphis.
UPDATE: (5:40 a.m.) ServiceMaster will decontaminate vehicles today for the Shelby County Sheriff's Office from 8 a.m. to 2 p.m, officials said.
The service, which is being donated, will be done at SCSO on Memphis-Arlington Road.
Approximately 60-80 vehicles will be decontaminated, according to officials.
UPDATE: (5:35 a.m.) The Mid-South Food Bank will be distributing food today through its Mobile Pantry at the following locations:
Memphis, Holy Temple Cathedral of Deliverance 4020 Millbranch Rd. 38116, 10 am.
Memphis, Inglesia Nueva Direccion, 3079 Knight Rd. 9 a.m.
Memphis, New Direction, 6120 Winchester Rd. 11 a.m.
Memphis, New Bellevue Ministries, 672 N. Trezevant 10 a.m.
Memphis, Greater Southside MBC 3209 Ford Rd. 38109, 10 a.m.
Pre-Registration for Knowledge Quest distribution, 590 Jennette Place 38126, from 10 a.m. - 2 p.m. for distribution on Tuesday, April 14.
UPDATE: (4:42 a.m.) Below are the latest numbers by state for our area:
Tennessee 4,634 - 14 cases in Dyer County. 25 cases in Fayette County. 6 cases in Hardeman County. 1,006 cases in Shelby County. 39 cases in Tipton County.
23 people have died in Shelby County.
In Tennessee, 94 people have died due to the coronavirus and 921 people have recovered.
Arkansas 1,146 - 77 cases in Crittenden County.
Two people have died in Crittendon County.
In Arkansas, 21 people have died due to the coronavirus.
Mississippi 2,260 - 35 in Coahoma County. 150 in DeSoto County. 26 in Lafayette County. 21 in Panola County. 19 in Tate County. 41 in Tippah County. 17 in Tunica County.
One person has died in DeSoto County.
Six people have died in Tippah County.
In Mississippi, 76 have died due to the coronavirus.
For continuous worldwide coverage, click here.
© 2020 Cox Media Group