DENVER — A Colorado man whose 7-year-old son's emaciated, decomposed body was found two days before Christmas 2018, encased in concrete inside a dog carrier hidden in a storage unit, has been sentenced to 72 years in prison for the boy's killing.
Leland Pankey, 40, of Denver, pleaded guilty in January to charges of child abuse resulting in death and tampering with a deceased human body. The 72-year sentence is the maximum he faced in the death of his son, Caden McWilliams.
Denver District Attorney Beth McCann said a first-degree murder charge was dropped as part of Pankey's plea deal. In January, the prosecutor said the deal was arranged because of the inherent risk of going forward with a murder charge when Caden's exact cause of death could not be determined.
"This agreement provides justice for Caden while ensuring that Mr. Pankey will serve a significant amount of time behind bars," McCann said Jan. 9. "This is one of the most horrific cases ever handled by the Denver DA's Office, and we were acutely concerned about re-traumatizing Caden's family, as well as the jury, judge and everyone else involved should this case proceed to trial."
>> Related story: Father charged with murder of 7-year-old found encased in concrete-filled dog carrier
The Denver Post reported that Pankey sat emotionless Friday as photos of his smiling son flashed across a screen in the courtroom. The boy's extended family members pleaded with the judge to not allow Pankey to ever walk free and try to contact Caden's sister, who was 4 years old when her brother died.
"Please, do not let him victimize her again," the children's aunt, Sarah Kruse, said, according to the Post.
Kruse is raising the girl, who she said was so deeply traumatized by her brother's death that she sometimes sits on the floor and rocks herself for comfort.
The little girl, who witnessed the ongoing abuse that led up to Caden's demise, used to feed her emaciated and starving brother cereal through the bars of the dog kennel in which he was kept, the newspaper reported.
The children's grandmother, Martha McWilliams, told the court she helped the children's mother, Elisha Pankey, raise Caden for the first five years of his life. When Leland Pankey re-entered the scene in 2016, the couple cut ties with their extended family.
McWilliams told the court she tried to keep tabs on her grandchildren through the manager of their apartment complex but did not know Caden was being abused.
"I live with the sadness of two children who felt abandoned by their Mimi," McWilliams said, according to the Post.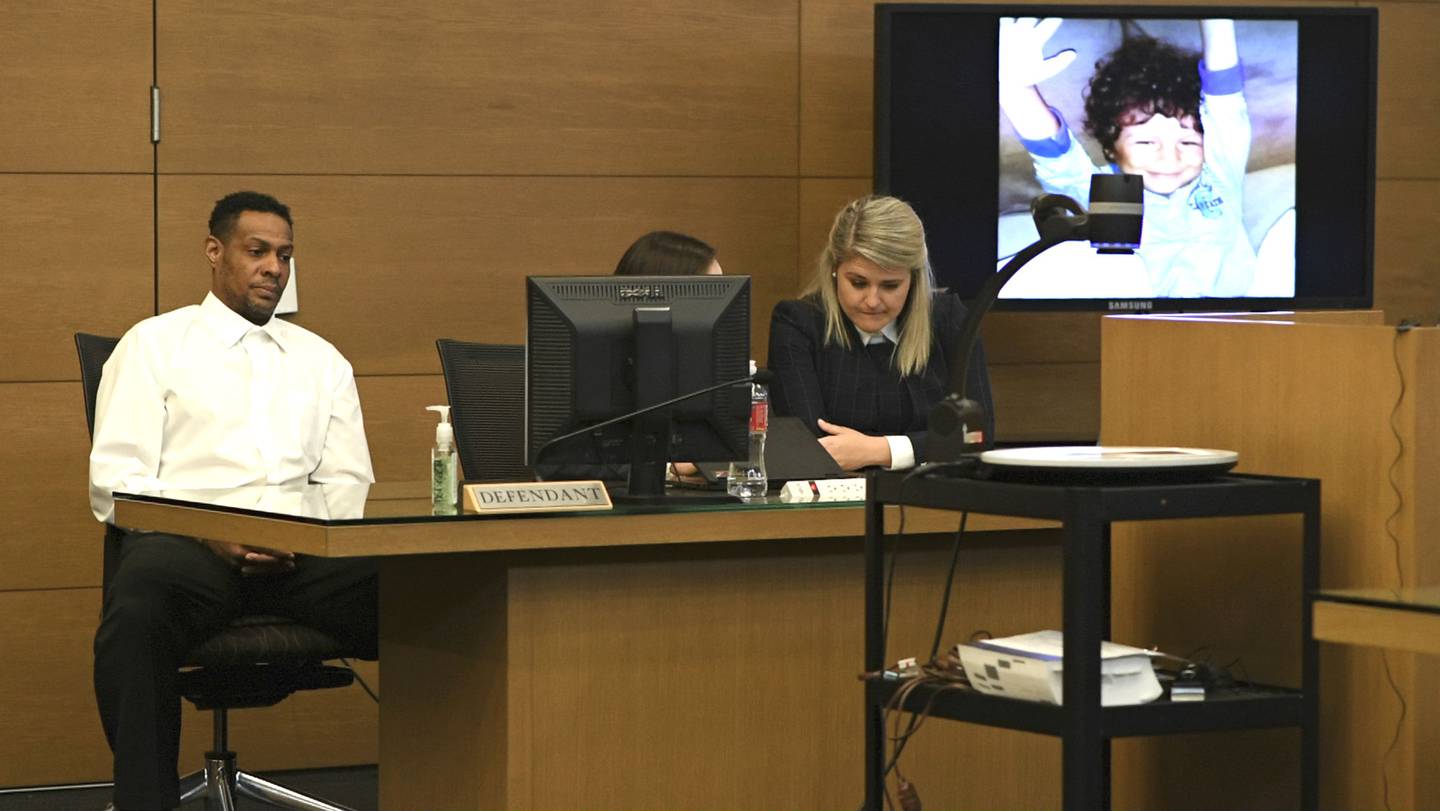 Leland Pankey was charged with murder, child abuse and tampering with his son's corpse in the summer of 2019. Caden's mother, Elisha McWilliams Pankey, 44, was charged that January with child abuse resulting in death and abuse of a corpse.
Leland Pankey's defense attorney tried to blame Elisha Pankey for Caden's death, arguing that her client should not receive a longer sentence on the same charges simply because Elisha Pankey cooperated with prosecutors first. Elisha Pankey pleaded guilty to the charges in August and is due to be sentenced April 1.
She faces 16 to 32 years in prison.
"This case was a race as to which parent could blame the other first," defense attorney Victoria Eidsmo said, according to the Post.
Denver District Judge A. Bruce Jones was not moved.
"I reject the idea that Caden slipped through the cracks," Jones said. "He was drug through the cracks by the defendant and co-defendant."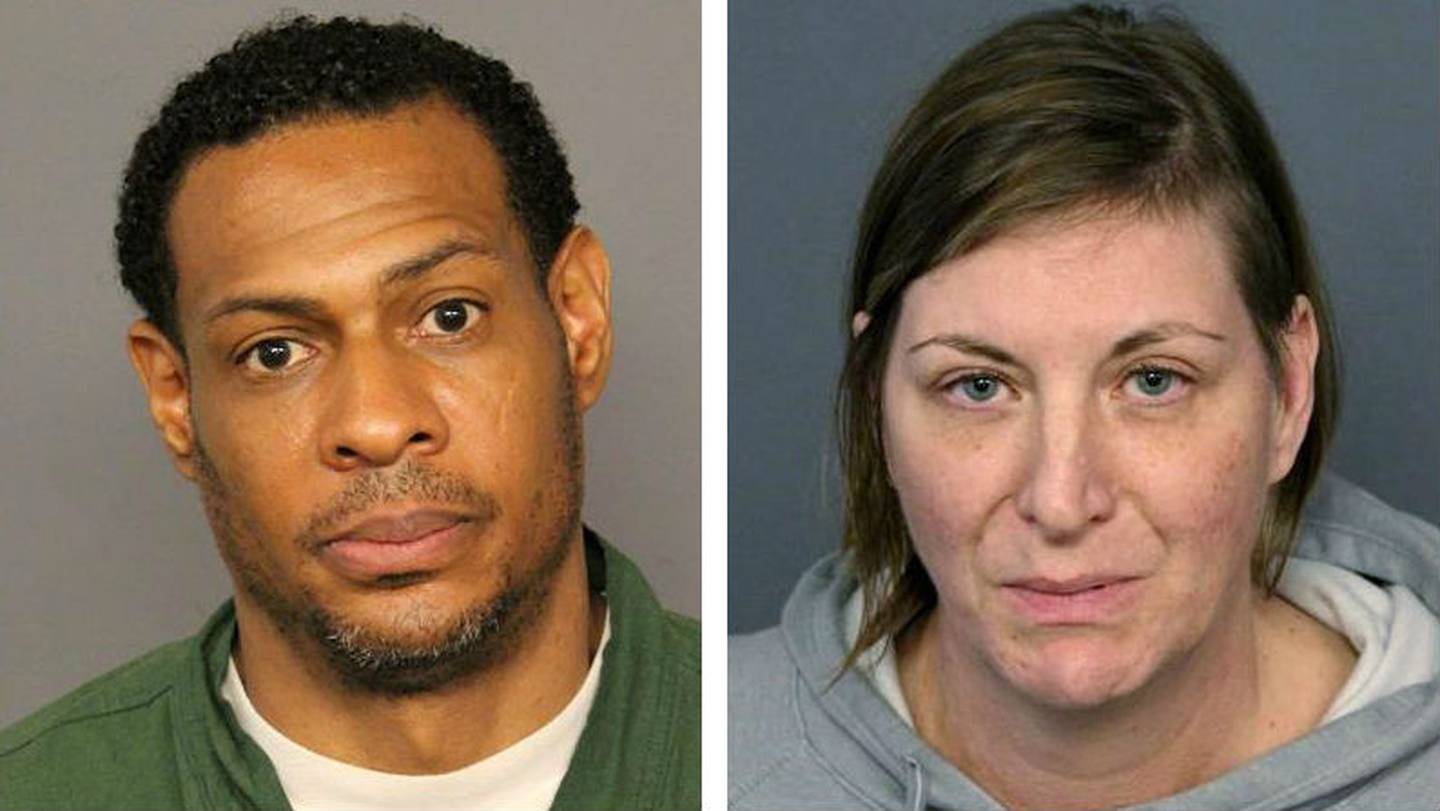 A news release from McCann's office said Leland Pankey's maximum sentence "reflects that Pankey's offenses were intentional, deliberate, calculated, callous, self-serving and depraved of any sense of humanity or human kindness."
"The seriousness of his offenses -- child abuse resulting in death and tampering with a deceased human body -- shock the conscience and are incomprehensible to the people of Denver," the district attorney said.
McCann described Caden as a boy who "loved to tinker" and said his family believes he would have grown up to become an engineer.
"By all accounts, 7-year old Caden McWilliams had an inner light, a heart of gold, a contagious giggle and a cascade of curls," the district attorney said Friday. "Caden was loved by his family for his old soul and sweet and gentle nature, and by his classmates for being a caring boy who was extremely popular and who loved dinosaurs."
McCann said the boy's extended family members have "collectively decided that the red-tailed hawk represents the elegance of Caden, and they will forever be reminded of him by the sight of a hawk."
"My hope is that the hawk becomes a symbol for all Denverites and that whenever we see a hawk soaring, we will all take a moment to think of Caden and in that moment remember to be kind to one another," McCann said.
'We can't save both children'
Caden's disappearance first appeared on law enforcement officials' radar Dec. 21, 2018, when Aurora police investigators went to an extended-stay hotel there and spoke with Elisha Pankey about a domestic violence case. According to the Post, she had reported Dec. 17 that Leland Pankey held a knife to her throat two months before and choked her until she lost consciousness.
"What began as a domestic violence call to the Aurora Police Department rapidly evolved into a homicide investigation because responding officers cared enough to ensure the involved children were safe," McCann said in a 2019 statement. "We have now implicated both parents in this truly horrific crime."
The officers who went to the hotel said they found suspected heroin in Elisha Pankey's room, court records show. They were also able to determine through records that Pankey and her husband had two children, Caden and a daughter born in 2014.
When the officers asked Elisha Pankey where the children were, she told them both children were with their father, according to an arrest affidavit.
Elisha Pankey was arrested on drug charges and the hotel room was secured, the document says. When investigators searched the secured room, they recovered the suspected drugs and a business card for a storage facility in Denver.
The owner of the storage facility told investigators Elisha Pankey had been renting a unit there since May 2018.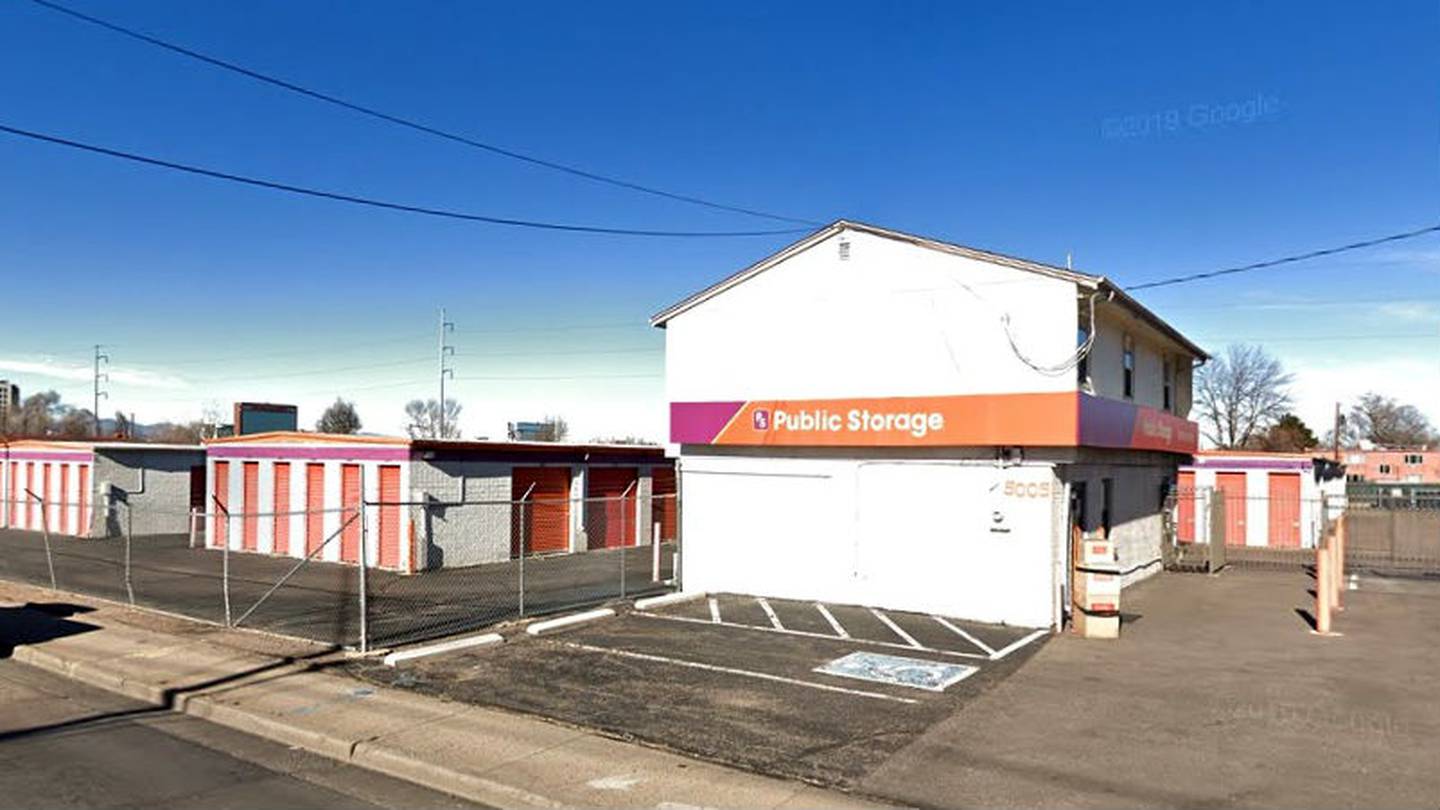 Investigators then went to a separate hotel in Denver where the family had been staying, the affidavit says. They found Leland Pankey in the parking lot, getting into a black 2009 BMW. Based on an active domestic violence warrant involving his wife, Pankey was taken into custody.
When he was arrested, about half an ounce of methamphetamine was found in the BMW, the affidavit says.
"Officers took Leland Pankey into custody and asked him about (redacted) and Caden," the document says. "Leland said (redacted) was in a day care center near I-225 and Parker Road.
"Leland changed the subject and avoided answering officers' questions about Caden."
Leland Pankey eventually told officers Caden was with Elisha Pankey, the affidavit says. Like his wife, he was taken to the Aurora Police Department.
The arrest affidavit says Aurora detectives spoke with an acquaintance of Leland Pankey's, whose name is redacted in the document. She told investigators Pankey told her three weeks earlier that he had "lost his son and that 'it was too much to handle,'" the document states.
Leland Pankey reportedly told the woman he had not grieved properly and needed help. He also told the woman she and her family could have the storage unit, saying he and his wife "didn't want anything to do with the storage because it had too many memories," the affidavit says.
An administrator at the day care center told detectives Leland Pankey had spoken with his staff on Nov. 29 and said he wanted his daughter to "be social with the other kids at the center because she had lost her brother," the document says.
Back at the police station, Leland and Elisha Pankey both refused to answer any more questions about Caden and asked for lawyers.
Read the arrest affidavit in Leland Pankey's case below.
On Dec. 23, two days after Aurora detectives first met with the couple at the separate hotels, they searched the storage unit with the aid of search and rescue dogs trained to detect human remains. There were a few plastic totes in the unit, along with a large pile of clothing and other miscellaneous items.
"Closer to the door, the unit contained several gallon-sized water bottles and a couple of partially emptied bags of Quikrete concrete," the arrest affidavit says. "Granular pieces of pre-mixed concrete were covering much of the floor of the unit."
Along one wall of the unit was a rectangular object, about 3 feet tall and 2 feet across, that was wrapped with layers of black trash bags and silver duct tape, the document states.
The K-9 officers did not initially detect the smell of human remains. Then detectives began cutting through the trash bags and tape.
"After he removed several layers, (Detective Patrick McGinty) began to detect a strong odor within the storage unit," the affidavit says. "Detective McGinty discontinued his search."
The K-9 handlers brought their dogs, Sam and Hawk, back into the storage unit, at which point both dogs "hit" on the tightly wrapped object. Aurora detectives called in Denver homicide detectives at that point, since the storage unit was in their jurisdiction.
Around 3 p.m. that afternoon, Denver homicide detectives began their own investigation of the item, which turned out to be a large plastic dog carrier with a large block of concrete inside. Technicians X-rayed the block but could not determine what might be inside.
The dog carrier was taken to the city medical examiner's office, where they discovered on Christmas Eve that the concrete contained a child's decomposed body, the affidavit says.
On Dec. 29, Aurora officers met with a witness at the Aurora Extended Stay Hotel, where Elisha Pankey had returned after being released from jail on the drug charges. The witness, whose name and identifying information are redacted from the arrest affidavit, told investigators she was staying at the hotel with Pankey when Pankey told her Caden had died inside an animal carrier and that his body had been placed inside the storage unit.
In a longer interview at Denver police headquarters, the witness told detectives she met Elisha Pankey in the Arapahoe County Jail on Dec. 22.
"(Redacted) said while they were in jail, Pankey told her that her son was missing and her husband, Leland, was the last person her son was known to be with," the affidavit says.
When the two women were both released from jail on Christmas Eve, the woman went and stayed at the hotel with Elisha Pankey. At that point, Caden's body had been discovered in the storage unit.
The woman said she was with Pankey when detectives approached her at the county courthouse and obtained a saliva sample for DNA testing. The detectives also told Pankey she was suspected in her son's death.
The witness told investigators Elisha Pankey told her Dec. 28 that she and her husband would make Caden get into the animal crate at the Aurora hotel in which the family was staying. According to the affidavit, the woman said Pankey told her Caden was in the crate one day in July, at which time Leland Pankey put blankets on top of the carrier.
"(Elisha) Pankey told (redacted) that she heard the boy cry out that he was hot and thirsty," the affidavit says. "Pankey told (redacted) she just stayed in bed."
The next morning, she found Caden dead, Elisha Pankey reportedly told the witness. After Leland Pankey confirmed the boy was dead, the witness said, the couple put the animal carrier in the car and went to a store, where they bought concrete and industrial trash bags.
They then wrapped the carrier in bags and filled the carrier, their son's body still inside, with the concrete, the affidavit says.
Caden's remains were positively identified Jan. 10, 2019, through DNA samples from his mother and father, the court documents say. His autopsy, which could not determine an exact cause of death, showed that the boy was severely emaciated when he died.
Caden weighed about 27 pounds when he died, the autopsy showed. A boy his age should weigh between 44 and 82 pounds, according to the Centers for Disease Control and Prevention.
He also had multiple injuries of the head, torso and limbs, including some that showed evidence of healing. Toxicology results also showed the boy had cocaine metabolite and methamphetamine in his liver tissue, court documents say.
His death was ruled a homicide.
Elisha Pankey was interviewed by detectives in March, at which time she gave a chilling account of what happened to her son. According to the court records, Pankey told police her husband, who was responsible for caring for the children because she worked full time, had been abusing Caden after the family moved into the Denver hotel in which they were staying. She said she knew about the abuse, and that her husband had not been feeding their son.
On July 11, three days before Caden died, Elisha Pankey said she was taking a nap when she woke to her husband yelling.
"She observed Leland holding Caden around the neck up against a wall," the affidavit says. "Caden's feet were not touching the ground."
Leland Pankey took the boy into the bathroom, where Elisha Pankey said she could hear "a ruckus," the document says. She never heard her son cry out as he was being beaten.
"Leland then left Caden in the bathroom with the door closed," Elisha Pankey said, according to the affidavit. "Leland told Elisha they 'can't save both children' and that they could take Caden to the mountains to bury him."
A forensic anthropologist who examined Caden's remains found breaks in the boy's nasal bones that showed signs of healing. New bone formation was present, indicating the injuries had taken place 10 to 14 days prior to his death.
He also had several well-healed bone fractures, as well as actively healing fractures to his head and right arm. The broken arm had been healing for between four and 50 days prior to the boy's death.
The head trauma, which was observed in his frontal bone, nasal bones and the orbit of his right eye, was consistent with blunt force trauma.
Cox Media Group